4Pillars – Class Action Clause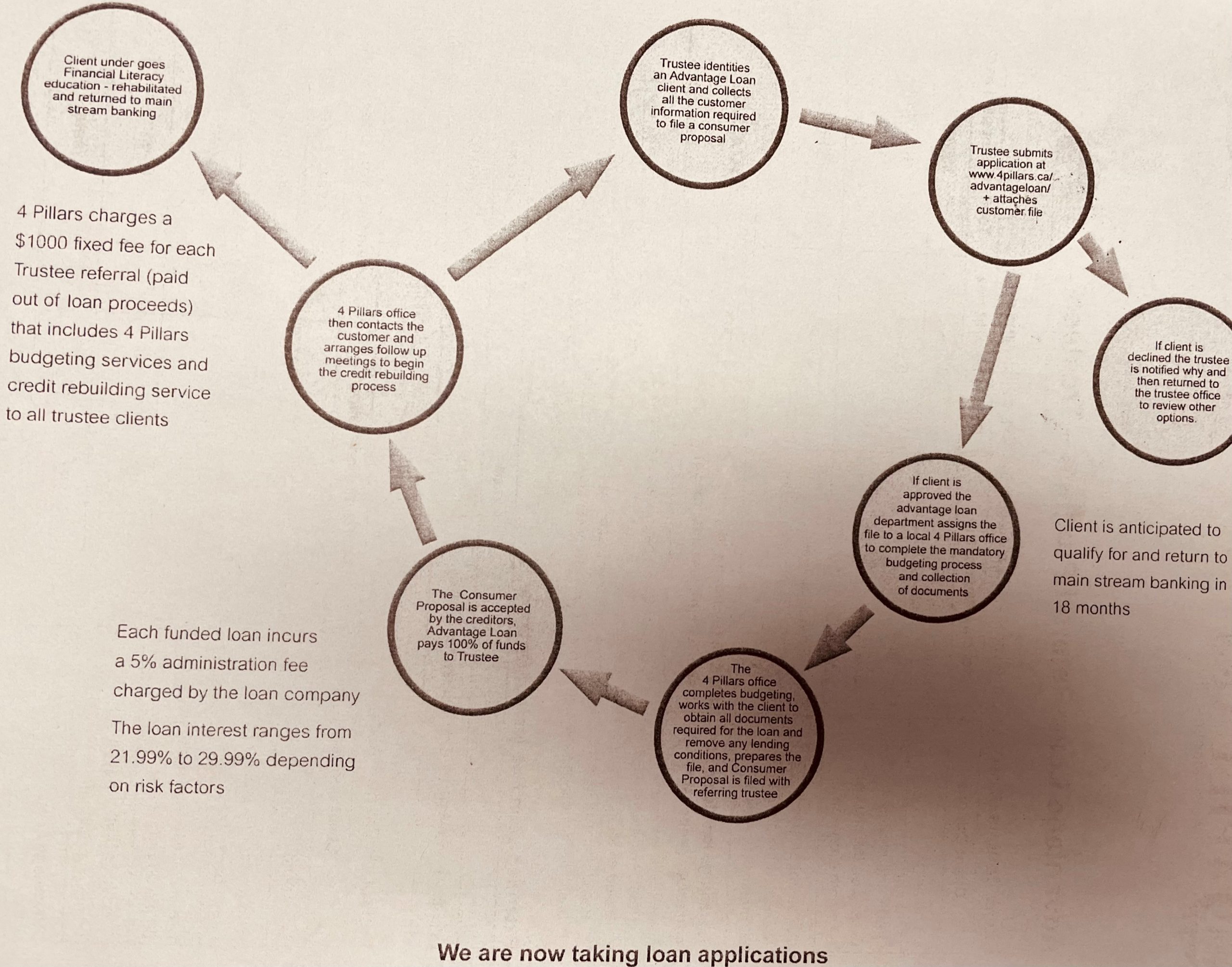 June 18, 2021
4Pillars debt consultants have been operating debt consulting franchises across Canada, for more than a decade.  The company, among other things provides a Licensed Insolvency Trustees ("LIT") referral service, for a fee.  We have seen fees ranging from $3,000 to over $7,000 for a service that amounted to little more than compiling an application and referring to a cooperating LIT.  By contrast, the standard fee for an LIT in an uncomplicated bankruptcy proceeding is typically less than $2,000.
Some debtors have had to cash out RSPs and other investments to pay the upfront fees. Ironically, the investments would have been exempt from seizure had the debtor seen an LIT first. The 4Pillars consultant primes the debtor for an anticipated monthly proposal payment based on a formula that, in our experience, ignores the negotiability of the proposal payments to a lower, and more sustainable, monthly payment level.
Debt settlement services in Ontario, and some other provinces, can only be provided by a LIT, Lawyer or Licensed Collection Agent, so the "debt consultant" is unable to provide these services without the assistance of one of these professionals. In addition to (fee for) referral services, debt consultants, from this and other companies, have sold "proposal insurance and proposal loans".
Proposal insurance purportedly will make the debtor's proposal payments, in return for a monthly premium, if something should happen to their income stream during the life of the proposal.  In reality, the insurance has conditions that must be met – much as any other insurance does – before the company will payout.

Another service debt consultants have provided (see image above) involves a, apparently pre-approved, Proposal Loan, at a high rate of interest and with substantial fees, to pay out the proposal with a lump sum.  According to the scheme for the loan, a payout of a $20,000 proposal would have cost the debtor about $40,000 including principal, interest, and finder fees. 

The loan would, of course, be reported to the Credit Bureau and may help to elevate credit scores while dragging on the availability of credit due to the impact on the debtor's debt service ratio.  The link to the url, on the information sheet, appears to be broken so perhaps this company may no longer be selling this service.
Many debt consulting companies as well as high risk loan and payday loan companies write complicated contracts. These contracts are often difficult for unsophisticated borrowers to comprehend. Several high-risk lenders, for example, contain "survivability clauses" that indicate the debt survives in the event of a bankruptcy. These clauses have no legal effect and cannot be used allow the company to "opt-out" of a bankruptcy or proposal proceeding filed under Federal statute (the Bankruptcy & Insolvency Act).
Similarly, 4Pillars had a clause in its standard client contracts that precluded the clients from enjoining a class action suit against the company.  The clause has been struck down by the BC Appeals Court which found "a class action waiver clause unenforceable as unconscionable and contrary to public policy".  The full case along with evidentiary links and the Judge's conclusions can be read here and it makes for an interesting read.