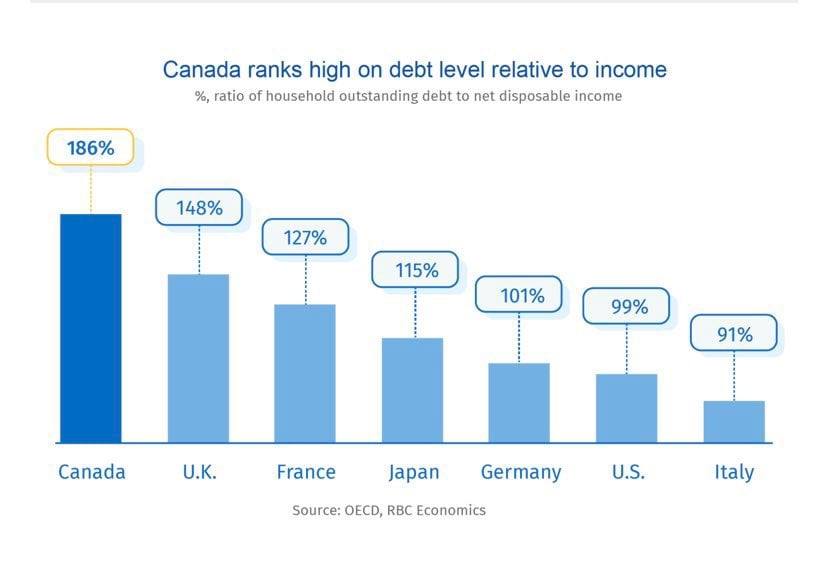 May 10, 2022
(Canadians are carrying more debt than consumers in any other country)
Just a quick look at the graph, pictured above, indicates how much Canadian consumers are leading the world in debt accumulation, when one hears that "Canada is number one" one wants to hope we are number one at something very positive, but that isn't the case when we discussing debt.
Do you have clients who are struggling with debt and don't which way to turn?  We can help!
We are licensed by the Federal Government to administer programmes that help individuals and small businesses solve debt problems.
Initial consultations are always free and allow us to explore and explain options, without any obligation or cost.
Debt can cause personal stress, family stress, financial stress and is a roadblock to economic success.
We have helped people to set up plans that allow them to pay back pennies on the dollar to their creditors.
We can help with almost any kind of debt including government debts for taxes, benefits overpayments, student loans, CERB and CEBA.
Imagine, debt reduced to affordable monthly payments, no more ducking collection calls, no fear of legal actions or property seizure.
Appointments can be made for in person as well as zoom meetings.
We are always just a phone call away:
(519) 646-2222